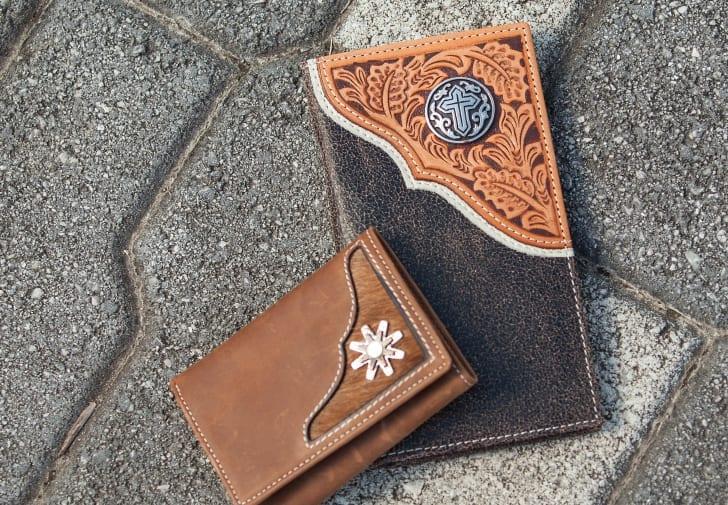 It's almost Father's Day again, and you might be struggling to decide what gifts to buy for that special cowboy you call Dad. Whether he's the father of your kids, or the man that raised you and taught you everything you know, we have some suggestions to show any Dad how much you appreciate him. Check out our list of the Top 10 western gifts for your BootDaddy. 
Help Dad Cut Loose
What's more relaxing than sipping a beverage while kicking back in a comfy pair of jeans and a t-shirt? Nothing! If you want to help your dad unwind this Father's day you may want to grab him one of these three gifts, or heck, get him all three and show him you really care!
1. First up is a bottle of our signature BootDaddy Moonshine. We're sure dad will love sitting on the front porch this June 15th while he sips a tall glass of Moonshine N' Lemonade. Pick up a bottle of shine and mix dad up a glass of liquid relaxation!
2. When it comes to relaxation, every man likes a good t-shirt. We think this vintage inspired, army green "Property of BootDaddy" tee is a great gift for the dad who loves to go casual.
3. Finally, every dad needs a few pairs of comfortable jeans whether for kicking back on the weekends, or for everyday out in the field. We especially like this dark washed pair of Cinch Luke II boot cut jeans. They've got that relaxed fit and easy style that always looks good and make this a top Father's Day gift choice. Not to mention, from now until this Fathers Day, at PFIwestern.com if you buy two pairs of Cinch jeans, you'll get a third pair free.
GO BIG for Dad!
Some of us owe a whole lot to our Dads! If your dad has gone above and beyond this year, show him how much you really appreciate it by going above and beyond yourself! Give him one of these gifts that will be around for many Father's Day celebrations to come!
4. A good pair of elephant boots can last decades, so why not give Dad a gift that he can enjoy for years to come. These BootDaddy Collection with Anderson Bean multi elephant cowboy boots feature an elephant leather toe wrapped at the top of the foot with another color of elephant, a subtly stylish blue, grey leather shaft, square toe, double stitch welt, and leather sole. Durable and stylish, this is a perfect gift for the BootDaddy in your life!
BootDaddy Collection with Anderson Bean Elephant Boots
For the Workin' Dad
If you're dad's a hard working man, than you know he has some special needs while he's out on the job. Whether he's out in the fields, working hard in the factory, sweating it out on the construction site, or doing any other backbreaking, good, honest work, you want him to be protected and comfortable. That's why we've got some great Father's Day gift ideas to show dad that you're thinking of him when he's out on the job.
6. Keep dad protected from the harsh sun, and give him a little bit of style with this American Hat Company straw hat. With the natural straw color, chocolate and tan cloth band, and 4 ¼" brim, this hat will look good and make sure he stays cool out in the heat
7. Keep his dogs from barking too loud and get Dad a pair of these comfortable and super durable Double H Peanut Bison Round Toe Oak Ice work cowboy boots. Not only do these boots feature the toughness of the Double H ICE sole and the comfort of the removable DRYZ foot-bed, but they are also made right here in the USA by other hard working American Dads!
Still Got It!
So your dad might still be the coolest guy you know, or maybe he needs some real help in the style department. Either way this last set of gifts is sure to give him a boost in the cool factor.

8. Put your dad in this modern fit, blue striped shirt by Cinch and he'll be ready to hit the town in style. The shirt features a slightly narrowed body for a more attractive fit, double flap pockets and cuffs, and black snaps down the front placket.
Cinch Modern Fit Men's Stripe Blue Shirt
9. Hold dads jeans up in style with this southwestern inspired Justin Pueblo Spirit belt. The tribal beaded design paired with the tooled brown leather ends makes this a stand out belt for all those more casual occasions when your western Dad still needs to be looking cool.
10. If you still don't know what to grab dad for this Father's Day, and you're thinking you might just give him cash, go ahead and check out this last option we have lined up for you. How about instead of giving him money, give him something to carry all that cash around in. This Nocona Black Pierced Lizard rodeo wallet and checkbook features a unique black rough out leather with black lizard inlays and a floral concho up top. Inside this wallet has plenty of space for your high roller to stash his cash, cards, checks, and even a few photos of the loving family who gave him all those great presents this Father's Day.
Nocona Black Pierced Lizard Checkbook Wallet 
11. Bonus Gift Idea! So, it turns out we couldn't choose just 10 items for our best Father's Day gifts list. We wanted to share this one last gift idea with you because it's one of our favorites. If you want to make sure dad smells as nice as he looks then pick him up a bottle of our exclusive BootDaddy Cologne only available at PFI Western Store. Great for every dad who lives by his own rules!
We hope that this list helps you find the right gift for you're awesome dad on this Father's Day. If you need any more help picking out a great gift, please visit pfiwestern.com for a full selection of everything your western dad could ever want!